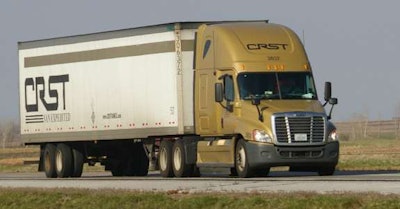 A jury found Swift Transportation owes CRST Expedited more than $15 million for recruiting freshly licensed truck drivers who were locked into 10-month employment contracts with CRST.
In a complaint filed in March 2017, CRST alleged that Swift made repeated attempts to hire drivers who had completed CDL training via CRST's in-house training program, which the carrier provides for free so long as drivers agree to drive for the company for at least 10 months after completing the training.
CRST said in the 2017 lawsuit that Swift knew about the employment contracts, yet pursued the drivers anyway. CRST says it received around 150 requests from Swift for employment verification for drivers that were within the 10-month contract.
CRST sued Swift for intentional interference with a contract and unjust enrichment. The carrier claimed it had invested substantial time and resources in training the drivers and in its training program as a whole, and that Swift's interference was "intentional and improper."
In an order issued July 23, a jury agreed with CRST's claims, awarding them $3 million for Swift's interference with CRST's contracts, $5 million in punitive damages and $7.5 million for the unjust enrichment counts — a total of $15.5 million.