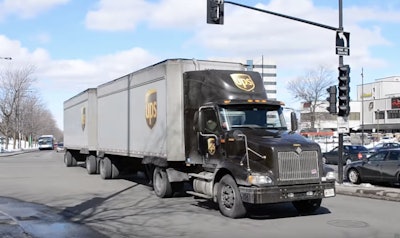 UPS, the nation's largest carrier, is petitioning the Federal Motor Carrier Safety Administration to allow its driver trainees with commercial learner's permits to pull 28-foot doubles to obtain behind-the-wheel training.
UPS says in its request that the drivers who would operate under the waiver would be "under direct supervision of a driving instructor."
Federal CDL regulations don't allow any driver to operate a commercial motor vehicle when the driver doesn't have a CDL or CLP with the proper class or endorsements, and regulations don't allow a double/triple trailers endorsement on CLPs.
FMCSA is accepting public comment on the request for 30 days, which can be made here through March 25.
Search thousands of trucking jobs to find the job you want.
Find Your Next Job Today