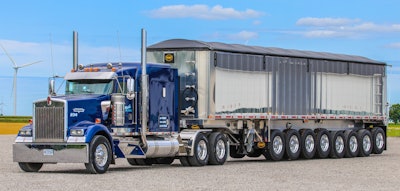 On many truckers' shortlists of major annoyances during the COVID-19 coronavirus outbreak are:
some shippers/receivers treating them as if they were the reincarnation of Typhoid Mary
limited access to hygiene basics like adequate showers and clean restrooms
availability of personal protective equipment like face masks, gloves, hand sanitizer, disinfectant wipes
fewer and fewer decent hot meals available
But, drivers for one Michigan carrier do not have to worry about living on truck stop roller dogs, one kind of cold sandwich or another, or a meal that always involves that age-old question, "Do you want fries with that?"
Countryside Transportation, a family-owned fleet based in Sebewaing, Michigan has come up with a way to feed its 70 drivers while at the same time helping small, independent local restaurants. The owners of Countryside believe they have an obligation to do both.
Stephanie Long and her brother Joel Fiebig saw two things happening as the COVID-19 coronavirus washed over the country and their part of Michigan's primarily rural Thumb. Their drivers were finding truck stops along the lanes they run in the Midwest and New York were closing or going to scaled-down, takeout only menus. And, independent restaurants in their area were losing business as social isolation increased.
So, they solved one problem with the other. Long and Fiebig arranged with local restaurants to make meals for their truckers. They started with a couple of eateries and now are working with 10 located in several communities in this primarily agricultural section of the state about 150 miles north of Detroit and perched on the shore of Saginaw Bay.
Each day drivers are sent a different restaurant's menu. They call in their order, verify it with their fuel card ID, and the time they want to stop by to get their food, which usually is delivered to them in their trucks. Countryside then pays the tab.
Long said, "When the stay at home order and the takeout restrictions went on in Michigan, our first thought went directly to our drivers and how they were going to eat when they cannot navigate through a traditional drive-thru. We immediately started thinking of our small town."
She said local restaurants were also going to takeout service so she called a friend that works at a restaurant and started teaming up with other eateries near where Countryside's drivers travel to daily. They arranged for drivers to essentially charge their meals.
"The restaurants have been great," said Long. "They appreciate the business called in at random throughout the day instead of one huge order."
About 20 drivers a day are able to take advantage of the restaurant meals. Countryside hauls food-grade products for Michigan Sugar, the Bay City-based processor of sugar beets, to customers in Indiana, Ohio, Illinois, and Upstate New York.
"We're fortunate we do what we do, and we're still working," said Fiebig. "We appreciate our drivers and wanted to do something more to show that appreciation and also help small businesses too."
Countryside hasn't stopped with its drivers. It's also buying meals for other employees, including its technicians who keep the trucks clean and on the road. Long and Fiebig hope to continue the meal program when social distancing eases and business life in Michigan edges back toward pre-pandemic days.
The care and feeding of drivers doesn't end with this brother and sister team. They said their mother, who with their father founded Countryside in 1987, has been keeping drivers supplied with masks and hand sanitizer.
And, although COVID-19 has prompted changes in how, when, and where Countryside's drivers eat, the company is not staggered by what's gone on the past three months. As food grade haulers, Long, Fiebig and their employees are used to strict regulations and an emphasis on cleanliness and safety.
"This has not been a huge life change for us," said Long. "It's meant some extra cleaning, and it's great to see our employees being so proactive."