Editor's Note: Welcome to View From the Top, a new series for Truckers News. In each feature, we'll talk with one of trucking's leaders about how their company and the industry are dealing with the unprecedented challenges and changes wrought by the COVID-19 coronavirus outbreak.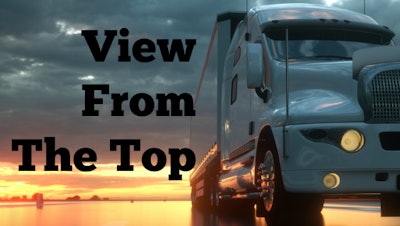 Earlier this spring, about the time the U.S. trucking industry began feeling the serious business impact of the COVID-19 coronavirus, Prime, Inc., one of the largest trucking companies in the country, celebrated its 50th anniversary. Robert Low, the company's founder and president started with one dump truck and built the company into one of the premier fleets in the U.S.
That celebration yielded to the demanding work of shepherding Prime through the totally unprecedented business climate and public health crisis that has developed. But, Low is pleased with how Prime's employees, and especially its drivers, have responded.
"We're so fortunate to have the best group of managers and drivers in the business," said Low. "Our drivers have really been phenomenal. They haven't missed a beat servicing our customers. In fact, we're seeing record-setting performance in customer service, on-time delivery, our safety numbers, and our number of cargo claims. They're just knocking the ball out of the park right now.
"Our technicians, our shop associates (have) our shops running seven/twenty-four and they're doing a great job while maintaining safety and protecting our drivers. It's really been quite gratifying."
At the same time, the trucking business has been on a rollercoaster since early March, and Low said Prime has not been spared.
"The market is somewhat tricky," said Low. "It's been bumpy. During the initial stages, there was panic buying on the part of the consumer. There was more freight than trucks. We came through March strong and then in mid-April fell off a cliff. And, so we had a couple of rough weeks, particularly with the closure of several packing houses. We're a big protein carrier and, when production goes out of business, that's a problem."
Low said Prime did "some shifting around," adding, "Our sales team has really done a good job at working with our shippers and, our ops folks and technology (team) to the shift trucks to where we do have freight. We've kind of gotten through that period now things are starting to improve."
Looking ahead, Low said Prime is proceeding with "an abundance of caution. We think that there may be some setbacks. We think that the economy and freight are going to track along behind the medical solutions that are available. We're in unchartered territory right now and again, we're going to go slow and cautiously."
Listen to all Low had to say in this edition of the Truckers News podcast.