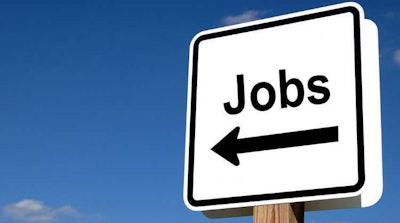 Total employment in the for-hire trucking industry rose by 8,100 jobs in June, according to the latest Department of Labor's preliminary Employment Situation Report. That builds on May's gains of 2,000, which followed a massive loss in April — 92,000 jobs on a seasonally adjusted basis, according to the DOL.
The U.S. economy as a whole in June added 4.8 million jobs, according to the DOL's preliminary report, and the unemployment rate fell to 11.1% — down from May's 14.3%.
Trucking industry employment totaled 1,440,700 in June — its lowest point since late 2014, the prior two months aside.
Major freight producing sectors construction and manufacturing both saw big gains in the month — 158,000 and 356,000 jobs added, respectively. Both are still well shy of their March figures, however, having gained back just about half of the jobs lost in April over the past two months.
The transportation and warehousing sector as a whole added 98,700 jobs in the month. The bulk of those are in the warehousing and storage sector (60,500), and couriers and messengers made up for another 21,100 jobs. Air transportation and rail transportation both reported job declines — 3,600 jobs and 2,500 jobs, respectively.