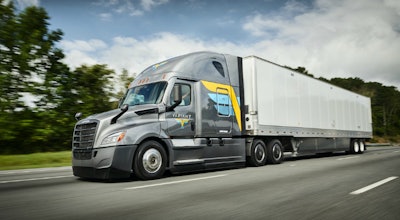 Cameron Ramsdell is not your typical trucking company executive.
But, that's just as well since he oversees a fleet that is anything but typical.
Ramsdell is the president of U.S. Xpress Ventures and oversees Variant, a fleet that is part of U.S. Xpress, and one he calls both "technology-centric" and at the same time "driver-focused." In this episode of the Truckers News podcast, Ramsdell explains how being the former allows Variant to also be the later.
Ramsdell says it's technology that helps the company hold onto its 500 drivers by ensuring they are well paid, listened to, and routed in ways to ensure they get home when and how often they wish. He said Variant uses some "very sophisticated algorithms on the backend that are making sure that drivers are constantly moving." And, if they are moving they are earning. Ramsdell said Variant drivers get 2,500 revenue miles a week to help ensure they have a predictable paycheck.
Listen to all Ramsdell has to say about the company, the sort of driver it seeks, and what's ahead for the company in this episode of the Truckers News podcast.