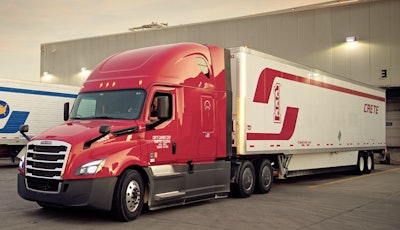 Crete Carrier and Shaffer Trucking last week raised pay for drivers on national and regional over-the-road fleets. Beginning Oct. 1 starting pay for national drivers now ranges from $0.51 to $0.57 per mile depending on experience. The pay cap for over-the-road fleets will also grow to $0.58-$0.61 per mile.
The pay increases apply to all solo, team and owner-operator drivers on national and regional over-the-road fleets that pay by the mile. Crete Carrier and Shaffer Trucking pay is based on practical miles, which pays an average of 3-5% more than pay based on short route miles, according to the company.
Crete Carrier President and Chief Operating Officer Tim Aschoff said the pay increase is a reward for performance during the challenges of 2020 and a recognition of growing demands by Crete and Shaffer customers.
"Our drivers have helped keep America's shelves stocked during a pandemic," said Aschoff. "They've run more miles per driver than last year. And they've come through for our customers time after time. Now our customers are asking us to do more, allowing us to provide a well-deserved pay raise for our drivers."
The performance of Crete and Shaffer drivers along with customer service and operations support teams has led to new opportunities for growth with existing and additional customers. Aschoff says it's important to continue to hire experienced drivers with solid safety records.
"We believe we have the best drivers in the business and we're looking for more top drivers to join the Crete/Shaffer family," said Aschoff.
Crete Carrier and Shaffer Trucking have been recognized by the National Transportation Institute as a Certified Top Pay Carrier, which includes pay, benefits and carrier stability. In addition to top per mile pay, drivers can participate in an affordable full benefits package. And in 2019 Crete Carrier and Shaffer Trucking contributed $12 million in profit sharing to employees' retirement accounts.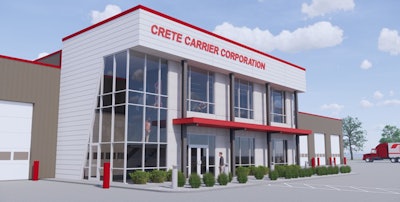 In addition to the Oct. 1 pay raise Crete Carrier and Shaffer Trucking will increase the quarterly safety and productivity bonus for the October through December quarter. Eligible drivers who meet the bonus criteria will receive an additional three cents per mile.
The company has also been working on some of its facilities.
Over the past nine months, the company has been working on plans for some improvements and renovations at the Lincoln, Nebraska terminal. The Maintenance building will be completely renovated, and a 3,200 square foot addition to the east side office portion of the building. The increased space will allow for a larger drivers' lounge, larger company store, a small workout facility, additional showers and restrooms, two classrooms for driver orientation, a clinic for drug screens/driver physicals, and additional office space. In addition, the will be paving the entire east gravel parking lot.
Work is expected to be completed in the fall of 2021.
The company also recently opened a new terminal in Statesville, North Carolina, which has 6,000 square feet of space and sits on seven acres. It includes laundry, bathrooms and showers, and a driver's lounge area. The company had a facility in Greensboro that had become too small as it increased the number of customers and drivers in the Carolinas.