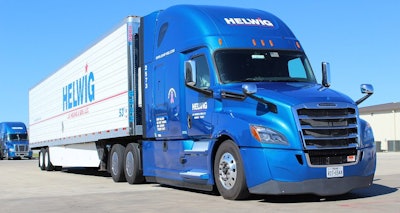 A major Texas reefer fleet raised driver pay recently for one good reason: to show their drivers they're appreciated.
J.S. Helwig & Son, a 365-truck carrier based in Terrell, Texas gave a 3 cents per mile across the board increase to its drivers Tuesday, Oct. 20. That raised driver pay from 47 cents per mile to 50 cents. The company also increased the cap for veteran drivers to 55 cents per mile.
Jamie Helwig said, "This wage increase is required in order to guarantee that we continue to attract the best drivers in the industry because as a family business, the quality of the people that work here matters to us."
Kenny Williams is director of recruiting for J.S. Helwig & Son and said the company values its driver because they are key to successful customer service.
"We think we have the best drivers out there and we wanted to show them that," said Williams. "We care about them especially because they have stuck with us in these difficult times."
Williams said that's similar to the company's outlook about the equipment it puts on the road. J.S. Helwig & Son's fleet is filled with Freightliner Cascadias — all no more than three years old — with Detroit DD15 engines, automatic transmissions, and SmartDrive technology. They are outfitted for driver comfort with 1,800-watt inverters, refrigerators, and Thermo King Tri-Pac APUs.
Williams said that good equipment like this is necessary for drivers to provide the high-quality customer service J.S. Helwig & Son prides itself on.
And, with freight demand high these days, the company is always looking for the best drivers in the industry.
Williams said J.S. Helwig & Son seeks drivers "who want to run miles and make money." The company has added trucks to its fleet this year because of increased demand.
J.S. Helwig & Son hauls meat primarily, from Texas to as far west as Colorado and to the Midwest, Northeast, and the South. Generally, its drivers are out 21 days and off for three; some Dallas/Fort Worth drivers run 14 days out and two days off.
The company was founded by the company's namesake, who began his trucking career as a lumper before starting a one-man/one-truck operation hauling produce.