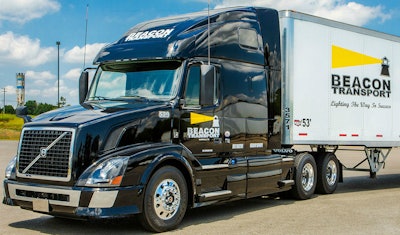 Tennessee-based Beacon Transport announced it will raise the pay for incoming drivers by 3 cents per mile effective Friday, Jan. 1. A statement from the company said the raise is "the perfect way to celebrate their 20th anniversary" and puts all new drivers at 50 CPM or more.
"We've truly been blessed these past 20 years and there's no doubt the success of our company is based on the consistent and committed work of our drivers," said Stan Pritchett, chief manager, and co-founder.
Founded in 2000 near Nashville, Beacon Transport specializes in hauling in non-hazardous dry freight throughout the Southeast and Midwest.
"An increase to our base pay has been something our drivers have needed and deserved and I'm thrilled that we are starting off a new year with this great announcement," said Lisa Milom, senior operations director.
Search thousands of trucking jobs to find the job you want.
Find Your Next Job Today