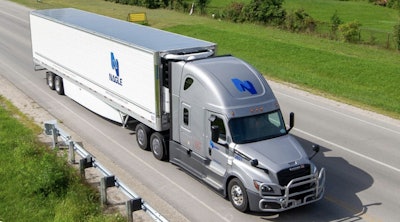 An Ohio-based reefer company recently gave its drivers a significant pay raise.
Nagle Toledo, Inc., a family-owned carrier servicing the East Coast, increased it's starting salary from $1,200 per week to $1,400 with top pay at $1,700 per week. The 17% increase is the largest driver wage increase in the company's 36-year history, according to a statement from the company.
The raise was effective Jan. 1.
Nagle said in the statement it was one of the first truckload carriers to pay its over-the-road drivers a straight salary. Nagle made the change in 2017.
"The reason we pay our OTR drivers a salary is two-fold," said Nagle Company President, Ed Nagle. "First, we hire professionals and most professionals get paid a weekly salary. The second reason is the drivers love the predictable weekly paycheck.
"Because of the nature of our lanes, our drivers only run 1,800 to 2,200 miles a week while still getting home. In the past, they might get paid $800 one week then the next week they might get paid $1,700 depending on when their paperwork was received."
Nagle seeks to hire drivers with at least five years of experience and have a stable work history.
"We only take drivers that are disciplined in trip planning, making his pick-up and delivery appointments," said James White, Nagle's director Of operations. "Nagle drivers are responsible, dependable, and great communicators with a safe history. Those are the attributes of a professional truck driver and we are only interested in drivers that are committed to this profession. Upholding our standards is the only way we can maintain the level of service that we provide."