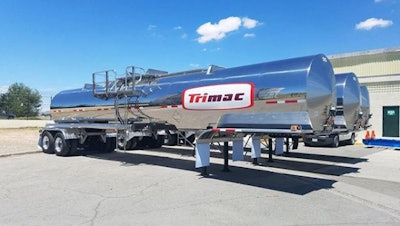 Canadian bulk hauler Trimac Transportation celebrated its 75th year of service by announcing a major pay increase for its drivers.
Trimac said it has increased long-haul and regional driver pay packages in the U.S. by an average of 10% and created long-haul opportunities with new pay packages to support business needs.
Trimac said its pay increase aligns with its commitment to be an industry leader in driver satisfaction and builds upon the benefit it provides.
"Our sweeping pay increases for our drivers are a sign of the value that our team brings to the marketplace in conjunction with the many opportunities we have secured," said Nate Kurland, VP of operations, U.S. Region. "We are excited for how this will impact our current and future professional driver team."
According to a statement from the Calgary, Alberta-based carrier, the main attraction of this driver pay program is that CDL-A drivers can sign-on with Trimac from any city in the U.S.
Details of the pay package include:
CDL-A owner-operators with tanker and hazmat endorsements will make $1.90 per mile loaded and $1.40 per mile empty

CDL-A company drivers with tanker and hazmat endorsements will make 65 cents per mile loaded and 60 cents per mile empty

Greeley, Colorado and San Antonio, Texas crude/chemical drivers fall into a separate category for CDL-A Drivers at $1.75 per mile loaded $1.25 per mile empty +100% FSC
"Our drivers are top priority and our move to compete for their skills will always be on our radar," said Stacey Milton, director of recruiting. "Trimac is committed to being a trail-blazer and we want the experience of working here to be pleasing both financially and culturally."