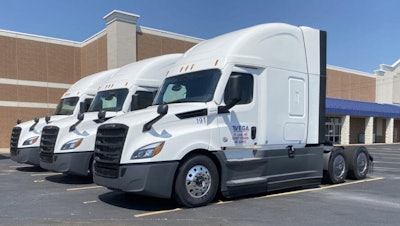 St. Louis-based Vega Transport recently introduced a new pay program the company said raises pay by 6 cents per mile across the board "as a way to reward drivers for their hard work and professionalism."
The company announced effective Feb. 22, drivers with three months of experience or less start out at 52 CPM with a pay increase every three months. Drivers with extensive experience can earn up to 64 CPM. By driving 3,000 miles a week at the top pay of 64 CPM, drivers can gross as much as $1,900, according to the company.
Vega said its other driver perks include a referral bonus worth up to $1,000, a sign-on bonus of $3,000, health coverage after a month, vacation pay, 401K with company match, newer model equipment to operate, and a refrigerated load bonus.
The company said it also uses route planning that takes advantage of the company's centralized headquarters and drop and hook loads to maximize driver home time. Vega said regional driver-style hometime is a major part of its commitment to providing drivers with family-friendly company culture.
Vega Transport is a full-service, nationwide truckload carrier founded in 2005. It operates about 120 trucks.