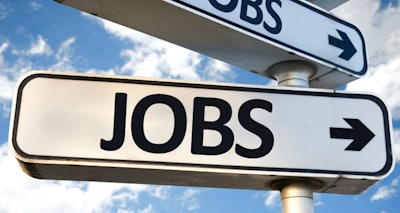 The total number of payroll jobs in the for-hire trucking industry fell by 4,000 in February, according to this week's preliminary data from the Department of Labor.
That's the first such month-to-month decline since last April's massive jobs losses when some 87,000 trucking jobs were lost in a single month in the worst of the economic downturn caused by the COVID-19 pandemic.
Since April, however, there's been a steady recovery in trucking employment, marked by several months of strong gains, including a rally from August through November in which 37,000 jobs were added back.
Hiring among trucking companies slowed last month, and preliminary data initially showed a dip in trucking employment in January. Revised data now shows employment gains had simply stagnated in January, growing by 800 jobs from December.
February's 4,000-job dip came amid other signals of a slowdown in the recovery for the trucking sector, though indicators in late February point to potential renewed growth. Likewise, trucking was an outlier among the economy at large, which added 379,000 jobs in February -- a pickup in hiring from January and a sign that economic growth might resume as nears, as coronavirus cases have waned in recent weeks, and as more Americans become immunized against COVID-19.
Total employment in for-hire trucking was 1,475,700 in February, according to the DOL's Bureau of Labor Statistics. That's still 49,100 jobs shy of last February's total, but 47,300 jobs higher than last April's low.
Major freight-producing sectors were a mixed bag in the DOL's February jobs report, with construction dropping 61,000 jobs and manufacturing adding 21,000 jobs. Transportation equipment manufacturing was one of the key drivers of manufacturing employment growth, adding 9,700 jobs in February.
The transportation and warehousing sector as a whole added 4,400 jobs in February, led by continued growth among couriers and messengers (aka parcel delivery and other last-mile services), which added 9,000 jobs, and in transit and ground passenger transport, which added 8,600 jobs.