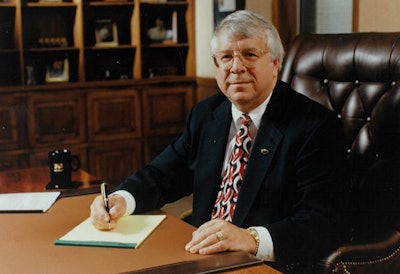 The founder of one of the country's leading trucking companies died earlier this week.
Harrold Annett, who founded TMC Transportation in 1972, died from Guillain Barre Syndrome with complications from pneumonia, according to his obituary. He was 78 years old.
Since its founding, Des Moines, Iowa-based TMC Transportation grew into a major employee-owned open deck transportation company with some 3,000 drivers.
Aside from operating TMC, Annett was active in motorsports, especially Sprint car racing. He was inducted into the was inducted to the Knoxville Raceway Hall of Fame in 2007. His son, Michael competes in a NASCAR circuit. He also operated a bicycle shop, built a BMX racing course, and traveled nationally to support a BMX racing team.
Annett also developed real estate in Lake of the Ozarks, Missouri.
TMC posted this on its website:
It is with deep sadness that we announce our founder and visionary leader, Harrold Annett, passed away Monday night due to unexpectedly severe complications from a recent illness. No words can adequately express the sadness and loss felt by the lives of everyone around him. Many of us have lost an inspiring mentor, a boss, and a friend.

Harrold was an exceptional leader, growing TMC Transportation from a one-truck operation to an industry leader. He had the heart of a saint and the roar of a lion; both of which were felt and respected by those who worked with him over the years. One hallmark of Harrold's success is surrounding himself with exceptional people at every level. Through this deep-rooted philosophy, Harrold ensured that TMC would continue to thrive even in his absence.
Surviving his death are his wife Debbie of 38 years; children, Toby Lawless (Janice), Tim Annett (Brenda), Todd Annett (Amy), Jennifer Ruble (Bob), Jason Webb (Colleen), Jaimi Webb, Emily Annett and Michael Annett; grandchildren, Mitchell, Carter, Shelby, Nikki, Tommy, Billy, Caitlin, Dylan and Brooklyn.
Preceding him in death were his parents, Walter and Dorothy; brother, Walt; sisters, Joyce and Edie; and niece, Cathy.
Annett's family will receive visitors today, March 4, at the Baymont Hotel, 6221 Willow Creek Ave, Des Moines from 4 p.m. to 7 p.m.
The Celebration of Life will be held Friday, March 5, at Lutheran Church of Hope, 925 Jordan Creek Parkway, West Des Moines, at 11 a.m. The service will be live-streamed at https://hopespecial.sardius.live/. A private family burial service will be in the Linn Grove Cemetery, rural Norwalk, Iowa.
In lieu of flowers, memorials may be given in Annett's name to the Dogwood Animal Shelter, 1075 Runabout Drive, Osage Beach, MO 65065.