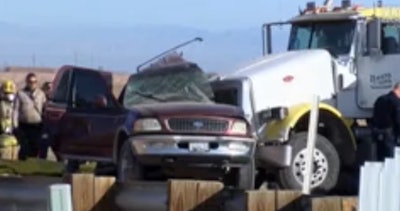 State, local, and federal authorities today continue investigating a collision between an SUV carrying 25 people and a tractor-trailer in southeastern California that killed 13 people and injured as many, including the 68-year-old truck driver.
Associated Press is reporting that the SUV in the collision and another vehicle entered the U.S. through a hole cut in fencing on the Mexican border and that the occupants of both vehicles are thought to have been "part of a migrant smuggling operation."
The crash occurred near an intersection on Route 115 near Holtville, California not far from the border with Mexico.
Here's the latest:
California Highway Patrol identified the injured truck driver as Joe Beltran, 68, of El Centro, California
CHP said the driver of the overloaded 1997 Ford Expedition was a 28-year-old resident of Mexicali, Mexico who was killed in the collision
the U.S. Immigration and Customs Enforcement agency issued a state that said special agents from its Homeland Security Investigations unit in San Diego "have initiated a human smuggling investigation"
a spokesman for Customs and Border Protection said the occupants of the SUV could have been farmworkers since a harvest is underway in the region
CHP said is working with the Mexican consulate to "determine who exactly was in the vehicle." at the time of the crash
the ages of those in the SUV range from 15 to 53
the tractor-trailer involved was a Peterbilt day cab that was pulling two belly-dump aggregate trailers that were empty at the time of the crash
Here's our original story from Tuesday, March 2:
At least 13 people died after an SUV with more than two dozen passengers collided with a tractor-trailer carrying gravel near the U.S.-Mexico border in California Tuesday morning, March 2. It was previously reported that 15 people had died.
"We believe there was (sic) 27 passengers in this SUV that struck a semitruck full of gravel," El Centro Regional Medical Center emergency room managing director Judy Cruz said in a Facebook Live video. It was later determined that here were 25 people in the SUV.
Authorities say12 people died at the scene of the accident, which occurred near an intersection on Route 115 near Holtville, California. Holtville is about 50 miles west of Yuma, Arizona, and 10 miles north of the U.S.-Mexico border. Another person is said to have died after reaching a hospital.
The driver of the truck is said to have received "multiple injuries," according to a California Highway Patrol officer.
All of those who died were in a Ford Expedition.
The collision occurred at about 6:15 a.m. Pacific Time.