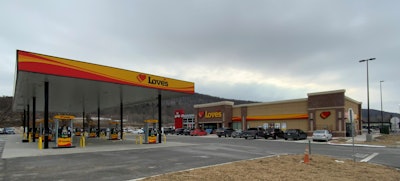 Love's Travel Stops today opened its latest location on Interstate 86 in Bath, New York, thanks to a truck stop that opened Thursday. The new store has 56 truck parking spaces.
It also has:
More than 12,000 square feet
Wendy's
Seven diesel bays
Seven showers
Laundry facilities
Love's Truck Care
Fresh Kitchen concept
Mobile to Go Zone for electronics
CAT scale
Dog park.

(opening later)
"With this new location, we're excited to better serve professional drivers in the Northeast by opening our third New York location," said Greg Love, co-CEO of Love's.