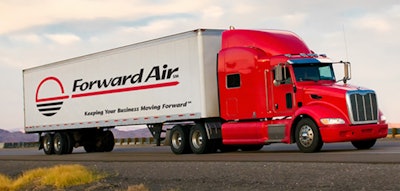 Forward Air Corporation today announced what it said is "the largest ever rate-per-mile increase" for its drivers.
The Greeneville, Tennessee carrier said it has raised pay 11 cents per mile for team owner-operators, and five cents per mile increase for individual owner-operators. The company said in a statement the raise "is an example of Forward's commitment to grow our business in stride with the businesses of our leased capacity providers that consist of independent contractor fleets and owner-operators."
"Our business is currently experiencing solid volume growth and we are focused on our commitment to delivering our customers' freight with precision execution," said Tom Schmitt, chairman, president and CEO. "To accomplish this, we understand that we must retain our existing fleet and attract new independent contractors and fleet owners to become business partners with the Forward team. This increase is a strong symbol of our commitment to our fleet. We will continue to make investments that strengthen our customer and fleet partnerships, while making Forward the best professional home it can be for our leased capacity providers and their drivers."
In addition to the rate per mile increase, Forward announced a sign-on bonus program it said will help drive first-year profitability for transitioning owner-operators or fleet owners. The bonus consists of $10,000 per team truck and $4,000 per solo truck added to the Forward fleet, all paid out in the first year of service.
Kyle Mitchin, chief people officer said, "We are excited to see the significant impact today's announcement will have on our fleet partners' profitability. We hold firm to our commitment to grow their business as we grow ours – and this is the fourth significant rate increase we've rolled out in the last four years. If you also consider our Fleet Forward program that pays an additional rate per mile to fleet owners, based on the number of seated trucks currently signed on with Forward, we believe we have the right ingredients to attract and retain the best independent contractors and fleet owners in the industry. The drivers of our owner-operators and fleet owners are the backbone of our business. At Forward, every day is Driver Appreciation Day."
Forward's LTL and Truckload fleet opportunities consist of running its national LTL network (terminal to terminal – drop and hook), dedicated lanes, and open board opportunities. The company said, fleet owners and owner-operators can expect consistent miles, revenue and mobile app technology to assist in the management of their business.
Forward Air is an asset-light freight and logistics company that provides LTL, final miles, truckload and intermodal drayage in the U.S. and Canada. It operates 200 facilities and employs some 5,200 people.