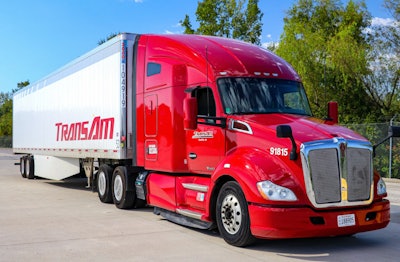 Major reefer carrier TransAm Trucking recently announced a 3 cents-per-mile increase for both existing and new independent contractors.
Independent contractors with the company will now start at $1.07 per mile loaded and empty. The company also implemented an accelerated rate increase for owner-operators with an increase of 5 cents-per-mile after six months of continuous service with TransAm.
RELATED: Kansas-based TransAm Trucking ups driver pay
Within six months, owner-ops with TransAm could be earning $1.12 per mile loaded and empty, which is on top of other bonus opportunities the company offers.
TransAm is located in Olathe, Kansas, and has a terminal with a driver's center and maintenance facility in Rockwall, Texas. The company runs some 1,000 power units and has 1,900 trailers. TransAm serves the Midwest, Mid-South, Northeast, and Southeast.