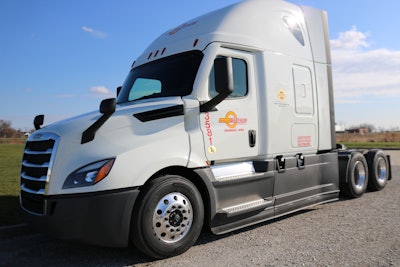 At times, it may seem as though truck driver pay hinges on one distinct choice: staying out for weeks at a time to run hard for maximum miles or being home regularly but earning less.
But, one major carrier is proving it can be different. Granger, Iowa-based Barr-Nunn Transportation has crafted a driver compensation program it calls Shift Load Pay. The company began testing this pay program in October of 2019, and today it's available to certain drivers in several locales and gives drivers paychecks and hometime that are both generous and consistent.
Jeff Blank is Director of Recruiting for Barr-Nunn. He said the company's Shift Load Pay with five shifts worked and five loads hauled provides solo drivers a minimum weekly pay of $1,575 and the ability to be home two days at the end of each week, either Friday and Saturday or Saturday and Sunday.
Addressing driver needs helped inspire the creation of the Shift Load Pay.
Blank said having strong consistent paychecks drivers can count on week to week is a hallmark of Barr-Nunn's Shift Load Pay program. He said the process is "more about your paycheck every single week and making sure that that paycheck is not only strong, but that it doesn't have massive fluctuations."
Blank said the Shift Load Pay program is available for drivers who live in the greater Chicago and Indianapolis metropolitan areas, and Columbus and western Ohio. It's also an option for drivers in eastern Pennsylvania, all of New Jersey, western Maryland, and much of Massachusetts. And, it's aimed at experienced drivers with solid safety records, offering 100% no touch freight along with no deliveries to New York City.
While the program started out for solo drivers, Blank said it has been expanded to include some teams. Team drivers each earn a rate of $275 or $335 each per shift worked bringing the total available earnings to $1925 to $2345 per week per Team driver.
In all, about 10% of Barr-Nunn's drivers are on the Shift Load Pay program, but Blank expects to see that number grow.
"Although there are a limited number of Shift + Load Pay driver positions, we are excited to offer these new fleet options to the safest professional drivers," said Blank.
While Shift Load Pay is well defined, it is not inflexible. Blank said drivers in this pay program can work 5, 6 or 7 shifts per week bringing their weekly earning potential to over $2200.00 per week. And, Barr-Nunn has plenty of loads to be grabbed.
Aside from being part of the Shift + Load Pay program, drivers remain eligible to earn safety bonuses ranging from $1,125 to $1,450 every 90 days, as well as paid time off.
Founded in 1982, Barr-Nunn today has about 550 tractors and more than 1,800 dry vans. The company has been recognized as a Certified Top Pay Carrier by the National Transportation Institute for the past 16 consecutive years.