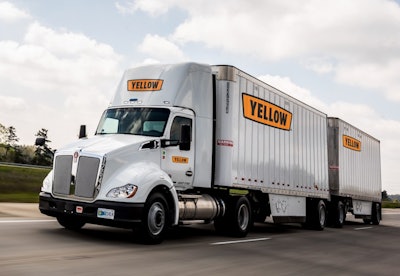 Kansas-based LTL carrier Yellow Corporation holds a hiring event Wednesday, May 5 at its facility in New York state's lower Hudson Valley.
Yellow said it expects to use the day-long event to fill 53 positions in Maybrook immediately and seeks to hire drivers and others for positions nationwide.
A statement from the Overland Park, Kansas company said it "looks to fill jobs including dock workers, local drivers (full-time position includes a $7,500 hiring bonus), and linehaul drivers (includes a $7,500 hiring bonus)."
Yellow said its Maybrook hiring event is among more than two dozen similar ones taking place across the country between now and July. By the end of 2021, Yellow said it expects to hire at least 1,500 drivers.
"Seventy percent of America's freight moves on our nation's highways, so it's essential that the industry continue to ramp up hiring to keep the U.S. supply chain humming along," said Darren Hawkins, Chief Executive Officer of Yellow. "Yellow pays very competitive wages and offers outstanding healthcare benefits for employees. For those with trucking experience or not, or folks looking for a new opportunity or needing to make a job change due to pandemic fallout, it's an exciting time to build a career and a future at Yellow."
In addition to the May 5 recruiting day, Yellow continues to regularly sponsor its Maybrook Driver Academy, which provides classroom and road training for those interested in careers as commercial drivers.
On Wednesday, May 5, Yellow's recruiting event will occur at its terminal at1000 Homestead Avenue, Maybrook from 9 a.m. to 4 p.m. Candidates will have the opportunity to interview with hiring managers and receive assistance with applications and paperwork. No reservation is necessary.