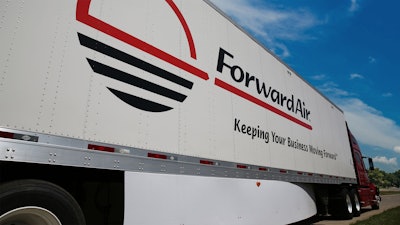 Forward Air Corporation, an asset-light freight and logistics company located in Greeneville, Tennessee, today announced it has entered into an agreement to acquire the assets of J&P Hall Express.
The acquisition is expected to close in May. Terms of the deal were not disclosed.
J&P Hall Express is a privately held expedited transportation provider that generates approximately $15.8 million in annual revenue. Headquartered in Atlanta, with a second terminal in Albany, Georgia, J&P Hall Express has been in business since 1989. Since then, the company has grown to offer a portfolio of transportation services including LTL, Full Truckload, LCL, CFS warehousing, and airport transfers across the Southeastern United States. J&P Hall Express operates 70 trucks and 110 total employees.
This acquisition increases Forward's footprint in Atlanta and adds a new location in Albany, expanding the Company's LTL operations in the region.
"J&P Hall Express offers a great range of regional freight services," said Tom Schmitt, president, chairman, and CEO of Forward Air. "They are first class at what they do. We know them as a top-notch competitor –- a great fit with our Precision Execution DNA. This acquisition supports our LTL network expansion strategy while allowing us to grow our pick-up and delivery service throughout southern Georgia and the northern Florida markets. We are thrilled to bring J&P Hall Express into the Forward family."
Forward Air operates about 200 facilities across the country and employs more than 5,200 people nationwide.