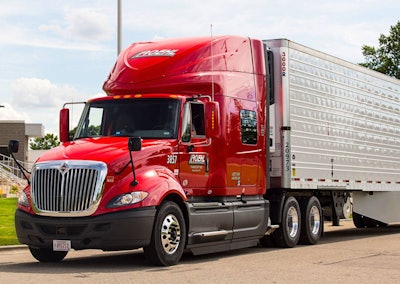 Roehl Transport today announced it will increase driver pay for a second time this year. The increases will add between $4,000 and $6,000 or more to most company drivers' annual pay, according to a statement from the company.
The pay increases will be effective May 24 and apply to company drivers in Roehl's refrigerated, flatbed, van, curtainside, and dedicated divisions.
Roehl's Accident-Free Pay increase was effective in February. At that time, the company also announced a significant increase in home daily trucking jobs. Unlike most local trucking jobs, Roehl's home daily jobs offer regional pay plans so Roehl drivers get a combination of more pay and more home time, the company's statement said.
RELATED: Roehl's Tim Norlin: 'We can't take our foot off the gas'
The company is also increasing owner-operator and lease operator compensation. On top of a sliding mileage compensation package, owner-operators and lease operators who partner with Roehl get B.O.S.S. benefits that include business advisors, a fuel surcharge program, as well as additional support.
"Because we've been adding driving teammates and winning new lanes from customers, we're able to increase our driving teammates' pay," said CEO Rick Roehl. "Our drivers are leaders in pay, productivity, and safety, and our second increase in compensation reflects our commitment to driver success."