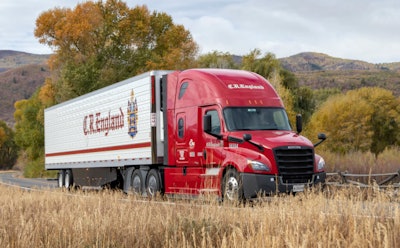 Salt Lake City-based C.R. England recently announced its largest driver pay raise in company history and third such pay increase for drivers since 2018. The pay increase will benefit C.R. England's line haul drivers in the company's over-the-road division and drivers in training. The increase became effective April 22.
"I am thrilled to announce our biggest OTR pay increase in company history," said Chad England, C.R. England's CEO. "This increase benefits every OTR driver that is paid mileage pay, which makes up the vast majority of our OTR fleet. It applies to drivers at every seniority level and to our current length of trip pay bands.
"Raising driver pay is another indicator C.R. England is committed to providing our employees with a long-term career path they can count on financially. We truly value the people that make our company great and will continue to find more opportunities to give back to the driving professionals who make C.R. England what it is today."
RELATED: Here's who has boosted their compensation package lately
This represents the largest percentage overall pay increase in company history and combined with other increases since 2018, means average C.R. England driver paychecks have increased 50% during that time. Additionally, C.R. England projects new drivers could expect to make more than 35% more in compensation compared to what their counterparts made last year.
C.R. England's OTR Teams will receive an additional 3 cents per mile, and its mentors and solos will receive an additional 7 cents per mile.
This increase aligns pay to be consistent with the competitive pay rates in C.R. England's dedicated and intermodal divisions.