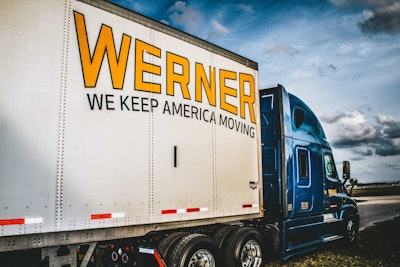 Werner Enterprises has petitioned the Federal Motor Carrier Safety Administration for a waiver to allow commercial learner's permit holders who have successfully passed the CDL skills test to essentially be able to drive in team operations.
Several carriers have previously received similar exemptions from FMCSA, including C.R. England, New Prime, and CRST Expedited.
RELATED NEWS: Werner acquires ECM Transport Group, Pennsylvania-based regional truckload carrier
The request asks that the pre-CDL drivers be able to drive a truck without having a CDL holder in the front seat of the truck with them.
Werner says the waiver will help the company improve the efficiency of its operations "by maximizing driver employment during a historic driver shortage."
The company adds that the waiver would create immediate employment and compensation opportunities for qualified drivers and improve "the overall safety of the new driver experience." The company claims that without the exemption it would "face a significant burden in all three areas."
RELATED NEWS: On the road 34 years, Werner driver win's CVSA's IDEA Award
FMCSA is requesting public comment on Werner's petition, which can be made for 30 days beginning Wednesday, Aug. 18, by searching Docket No. FMCSA-2021-0118 at www.regulations.gov.