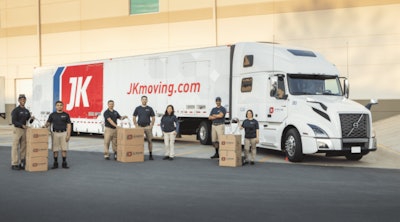 JK Moving Services, the largest independently owned and operated moving company in North America, has increased annual guaranteed income for experienced OTR Class-A CDL drivers to a minimum $100,000.
"We have a driver shortage in our country that has been exacerbated by growth in online retailing," said Chuck Kuhn, CEO of JK Moving Services. "Despite the difficulty in attracting drivers, we remain committed to providing a best-in-class experience for our customers and that starts with investing in having a great team."
With the guaranteed income, JK salaries put CDL drivers among the Top 25 highest paying jobs in the nation, according to Glassdoor, a leader on insights about jobs and companies. JK's CDL driver pay is well above the national industry average of just over $50,000 for this position, reported by Glassdoor. The minimum guarantee also ensures drivers, who can be stationed anywhere in the country, have steady income throughout the year.
JK Moving Services is headquartered in Sterling, Virginia.