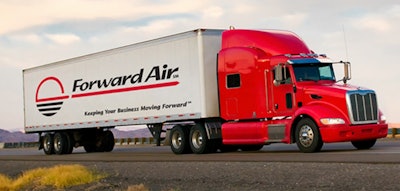 Forward Air Corporation today announced what it said is "the largest ever rate-per-mile increase to its independent contractor fleet within its less-than-truckload and truckload divisions.
A statement from the company said, "Today's announcement of a fifteen cent per mile increase for independent contractor fleets and independent contractor teams and solo drivers is an example of Forward's commitment to grow our business and provide our independent contractors an excellent opportunity to operate and grow a successful business."
The company also said the raise is the largest per-mile increase in company history and is the third increase announced this year. With this fifteen cent per mile increase, Forward Air said, "team independent contractors have the ability to earn in excess of $497,250 annually/$41,437 monthly and solo independent contractors to have the ability to earn in excess of $203,500 annually/$16,958 monthly."
RELATED NEWS: Forward Air delivers largest driver pay raise in its history
"Our business continues to experience record volume growth," said Tom Schmitt, chairman, president and CEO of Forward Air. "We remain focused on our commitment to delivering our customers' freight with precision execution. We believe this rate increase will allow us to secure freight capacity by retaining our existing fleet and attracting new independent contractors and fleet owners to become business partners with the Forward team. This rate increase recognizes the dedication to excellence, precision execution, and the safety-first mentality displayed by Forward's independent contractors."
Search thousands of trucking jobs to find the job you want.
Find Your Next Job Today