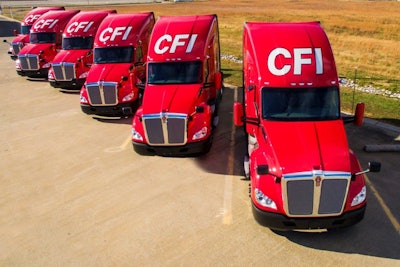 CFI, a subsidiary of TFI International, recently announced it's increasing pay for its drivers. The company also said it plans to buy 770 new Kenworth T680 tractors and 250 new 53-foot trailers this year
The company said it is streamlining its driver compensation program to align pay for consistency across its trucking operations. Under this plan, drivers for CFI Truckload and CFI Temp-Control will receive an increase of 2 cents per mile. Drivers can also qualify for extra earnings from incentive bonuses based on safety and productivity performance, retention, and years of service, as well as recruiting referrals.
RELATED NEWS: KLLM announces pay increase & paid home time
The company says the new trucks will be equipped with safety technologies and driver conveniences, including 110-volt power inverters, engine block heater, refrigerator, ergonomic driver's seat, an in-cab sliding fifth-wheel release and more.
The 250 trailers will include 100 dry van general freight trailers and 150 reefer trailers to support the growth of CFI Temp-Control.
"We continue to invest in our people with modern, fuel-efficient equipment, including options and accessories most in demand by professional drivers supporting safe operations and driver comfort," said Greg Orr, president of CFI. "With these new units, the average age of CFI's tractor fleet will be less than two years."
Search thousands of trucking jobs to find the job you want.
Find Your Next Job Today