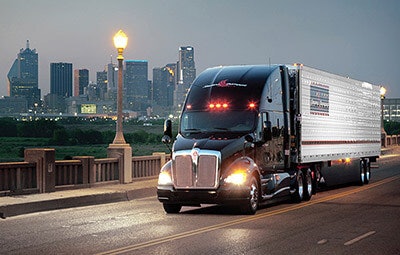 Stevens Transport Friday, March 18, announced it will give its drivers driving what the company said is "the largest and most comprehensive pay increase in the company's 42-year history."
According to a statement from the company, driver pay in its over the road, regional, intermodal, contractor, and dedicated divisions by nearly 15%. That means first-year company drivers will earn up to $70,000, experienced drivers in the OTR, dedicated and regional divisions can earn $90,000 or more depending on the region, experience, and the customer they are delivering for. Team drivers in the expedited division will be earning more than $175,000 annually. Independent contractors can gross $250,000 or more annually, according to Stevens.
"Our Drivers have been performing at an outstanding level for our customers," said Clay Aaron, Stevens' president."To show our continued commitment and appreciation, we are proud to announce our third driver pay increase in the last 16 months, with this being our largest pay increase in our history. We will immediately increase the driver pay in our over the road, regional, intermodal, contractor, and dedicated divisions by nearly 15%,
"We have implemented a variety of new driver pay initiatives to include enhanced detention and layover pay as well as new weekly and daily pay incentive programs during the past year. As an organization, we are committed to excellent compensation, state-of-the-art equipment, and new opportunities that create a greater work-life balance for our drivers."
The pay increase went into effect on March 16.
Founded in 1980 by Steven L. Aaron with a fleet of 10 commercial trucks in Dallas, Stevens Transport is still family-owned and operated. Today Stevens has some 2,400 drivers.
Search thousands of trucking jobs to find the job you want.
Find Your Next Job Today