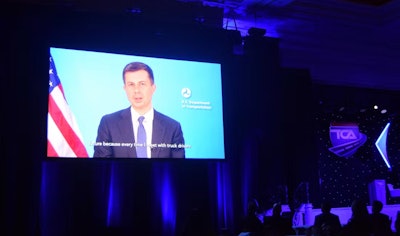 Transportation Secretary Pete Buttigieg to those attending the recent Truckload Carriers Association's annual convention that work needs to be done to improve issues in the industry that are making the job of truck driving "harder than it should be."
Buttigieg, who addressed the conference by video, also emphasized preserving trucking as a "gateway to the middle class" for those involved in it. He said he'd heard that sentiment not only from support personnel in the industry but most importantly from drivers.
He identified improving compensation and working conditions as areas where improvement is needed. He also praised TCA members for helping "put a much-needed spotlight" on unpaid detention time. He also called out large amounts of "debt that can be associated with training."
The TCA earlier in the week announced it had joined onto the DOT initiative to combat those debt loads with more participation in the registered apprenticeship program of the Department of Labor. TCA, as did the American Trucking Associations before them, became a sponsor for its member companies to offer working apprenticeships to job applicants while TCA and partner FASTPORT -- a DOL intermediary specializing in transportation and logistics -- administers the program for the participating companies.
The association has said carriers Melton Truck Lines, Tyson Foods, and D.M. Bowman have already signed on to the program to create apprenticeship programs that are what Buttigieg called "high-quality on-the-job training" that is paid, rather than paid for by the trainee.
Buttigieg also stressed the need for continued advocacy to states around infrastructure improvement projects and the availability of federal grant dollars for badly needed truck parking facilities investment.
"We are actively working with states on truck parking," he said. "I've pushed for states to use their funds or submit applications for federal grants so that I can use those dollars" for truck parking. "We know how much parking is a priority for you, and that makes it a priority for us, too."