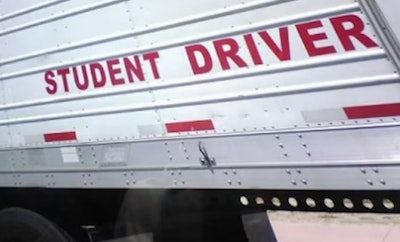 An Indiana vocational education center is now offering two new programs for high school students interested in trucking and other supply chain careers.
The New Castle Career Center has partnered with Ivy Tech to introduce a new Commercial Driver's License Program for the 2023 – 2024 school year. Juniors and seniors will have the opportunity to participate in a Supply Chain Pathway or a Transportation Pathway. The two programs are new to New Castle Career Center for the 2023-24 school year.
The Transportation Pathway is for students in their senior year. During this time, students will earn six credit hours while they learn safety and prepare for and take the CDL A or B license certifications. Much of this course will be hands-on learning. During the second semester, students will work in the transportation industry four days a week. The curriculum for this program will be conducted on one class day during the second semester.
Participation in the Transportation Pathway will be limited, with only six students accepted into the program. Students interested in these programs must have transportation to Ivy Tech in New Castle where all classes will be held.
Students choosing the Supply Chain Pathway will have the opportunity to earn six credit hours and may participate in the program for one year or two years. In this option, students will gain knowledge in logistics management, supply chain strategy, planning and design, customer service, purchasing, forecasting, warehouse management, as well as a study of transportation systems. During their second year, students will be able to participate in work-based learning.
The New Castle Career Center provides services to eight school districts. New Castle is located about 44 miles east of Indianapolis.
Search thousands of trucking jobs to find the job you want.
Find Your Next Job Today