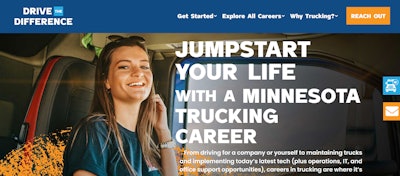 MTAF
The Minnesota Trucking Association Foundation (MTAF) has launched an awareness campaign to raise the profile of trucking jobs in the state.
The Drive the Difference: Trucking Careers, Powered by People effort includes a website (www.DrivetheDifferenceMN.com) and a coordinated, ongoing social media campaign to encourage young people and their parents, mid-career changers, women, and under-represented populations to consider a career in the Minnesota trucking industry.
The project was undertaken by the foundation in response to MTA members identifying the driver and technician shortage as one of their top challenges, year after year. Minnesota currently faces a shortage of nearly 8,000 truck drivers, according to the organization.
"The goal of the Drive the Difference campaign is pretty simple," said MTAF Chairman Brent Bois of Calhoun Truck Lines. "We want to attract men and women to the site, connect them with training providers, and deploy them into essential, high-paying truck driving and truck technician jobs."
The Drive the Difference website includes descriptions of all kinds of trucking jobs, links to schools, and videos featuring employees from from MTA member companies. The videos include testimonials from drivers, technicians, and behind-the-scenes employees. The ongoing social media campaign will utilize Facebook, Instagram, LinkedIn, TikTok, and YouTube as well as ads on Pandora and Spotify to help drive people to the website, according to the organization.
The MiTA's board of directors donated $110,000 to the foundation to launch the multi-year campaign.
"The Minnesota Trucking Association has been fortunate to accumulate resources to fund special projects of great industry need," said MTA President John Hausladen. "The board was unanimous that there is no greater need and no better use for these member resources. We are excited to see how this effort brings talented men and women into our industry.
"We believe this is a best-in-class workforce hub and campaign, utilizing cutting-edge tools and unique Minnesota content. Like trucking, we are in this campaign for the long haul with a multi-year strategy."
Search thousands of trucking jobs to find the job you want.
Find Your Next Job Today