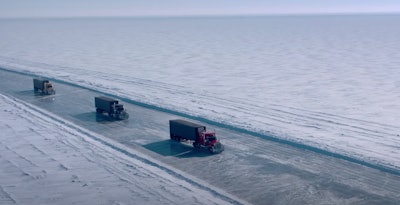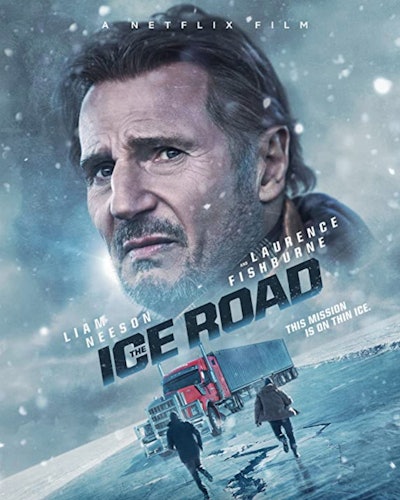 Ice road truckers are back!
No, not the Ice Road Truckers, a.k.a. Lisa Kelly, Art Burke, Alex Debogorski, Todd Dewey, et al.
Instead, a movie premieres on Netflix next month called The Ice Road, and stars perpetually irritated action hero Liam Neeson.
Let's face it, you knew it had to happen sooner or later. Having a group of truckers risk life and limb driving across the (usually) frozen ice roads and lakes of Alaska and Canada is just too juicy a potential plotline to let be. After all, the History Channel successfully presented Ice Road Truckers for a staggering 141 episodes over 11 seasons.
Now writer and director Jonathan Hensleigh takes a swing at it. But, instead of making a reality TV show, Hensleigh has created a gasp-a-minute action film.
Simply put, The Ice Road is about a small band of truckers who must quickly navigate the ice roads to reach a diamond mine in remote northern Canada. The mine has collapsed and Neeson and two other truckers are the only hope for saving the trapped miners before their oxygen runs out. However, their icy sprint is complicated, of course, by some baddies who don't want them to succeed, and a terrible winter storm.
The role ought to be a natural for Neeson. His list of heavyweight credits includes Darkman, Rob Roy, Michael Collins, Star Wars: The Phantom Menace, The Haunting, Gangs of New York, Taken, The A Team, and Run All Night. But, it's Neeson's turn in Cold Pursuit as Nels Coxman, a grieving father and snowplow driver seeking revenge on the drug dealers who killed his son, that may have best prepared Neeson for driving over the ice roads. That, and the fact that as a young man he was a forklift driver and trucker in his native Northern Ireland.
Joining Neeson is Laurence Fishburne as Neeson's boss and Amber Midthunder as his codriver.
The Ice Road premieres on Netflix June 25.