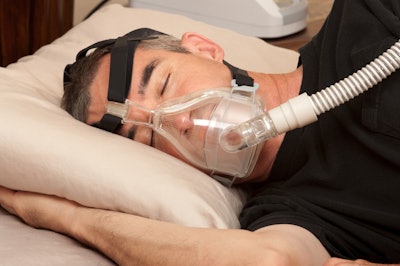 Electronics manufacturing giant Philips is recalling millions of CPAP and BiPAP devices due to an issue that could potentially pose a health risk to users of the machines. In the wake of the recall, an Oregon-based truck driver has filed a class action lawsuit due to not being able to work while not being treated for sleep apnea.
Philips, which also manufactures light bulbs and various electronics, issued the recall on June 14. The recall was intended to address the polyester-based polyurethane (PE-PUR) sound abatement foam, which is used to reduce sound and vibration in the affected devices. The material may break down and potentially enter the device's air pathway. A full list of affected devices can be seen here.
The U.S. Food & Drug Administration has classified the recall at its most serious, Class I level given potential injury risk. FDA flags a long list of potential ill effects of "black debris from the foam or certain chemicals released into the device's air pathway" and inhaled or swallowed, from irritation to "inflammation, headache, asthma, hypersensitivity, nausea/vomiting, adverse effects to other organs (such as kidneys and liver) and toxic carcinogenic effects."
This presents a critical decision for truckers with sleep apnea using affected Philips devices and their treating physicians. Such haulers can stop using the device and wait for the recall to play out to have the device repaired or replaced, or try to purchase a new device. Alternatively, they might continue using an affected device and take a chance with the potential health risks that prompted the recall.
As of June 14, FDA said there had been more than 1,200 complaints and more than 100 injuries reported for the issue. Philips said despite a low complaint rate (0.03% in 2020), it determined based on testing that the foam could cause risks to users.
The degradation of the foam is exacerbated by the use of unapproved cleaning methods, such as ozone, according to Philips, as well as environments subject to high heat and humidity like those of parked, un-air-conditioned vehicles.
Additionally, in February 2020, nearly a year and a half before the Philips recall, the FDA issued a safety advisory to alert consumers and healthcare providers that the agency had not authorized for market any products using ozone gas to clean, disinfect or sanitize CPAP devices.
Gerry Shelton, a truck driver based in Boring, Oregon, filed a class action lawsuit on June 29 against Philips seeking a refund, replacement with a non-defective device, costs for ongoing medical monitoring, and all other appropriate damages for all the injuries he has suffered as a result of his defective device.
According to the lawsuit, Shelton was diagnosed with sleep apnea and purchased a Philips Dreamstation BiPAP machine in 2020. Because of the recall, he allegedly was forced to stop using the machine, the lawsuit states, which also forced him to stop driving a truck "because he cannot drive with untreated sleep apnea." The lawsuit also claims Shelton went into atrial fibrillation (increased and irregular heartbeat) as a result of not using the machine.
The lawsuit alleges that Philips knew about the risks associated with the foam in its devices well before the recall was issued. It also claims that "Philips timed its recall of the recalled breathing machines to coincide with the launch of its next generation of products, which purportedly do not suffer from the same PE-PUR foam issues. Thus, the only safe option that Philips offers to its customers – many of whom need and rely on the recalled breathing machines – is to purchase Philips's newer model, thus profiting Philips further."
The lawsuit was filed in the U.S. District Court of Massachusetts. Philips has requested a stay on actions in the lawsuit pending ruling on a motion to combine a large number of similar lawsuits filed around the country.
One of Philips' largest competitors in the portable CPAP space is ResMed, which updated its warranty following the February 2020 FDA notice to not cover devices with ozone damage. ResMed also said its devices use a different material for sound abatement that doesn't break down.
In a statement, Philips said the company's priority is to "replace the foam in all the affected devices either by repair or replacement with like devices with the new foam."