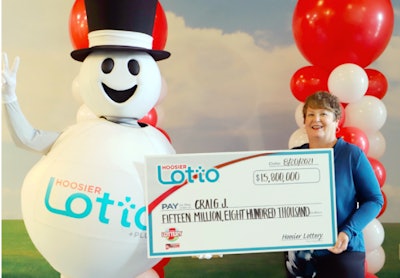 An Indiana truck driver suggests there may be a career change in his future thanks to hitting the Hoosier Lottery last month.
Identified only as "Craig J." the trucker won $15.8 million, but opted for the immediate cash payout of $9.8 million.
How will he spend his winnings? The Plainfield, Indiana resident said, "Retirement is in the plans. I am not a big spender. I may get myself a treat. I love cutting grass and will continue to do that. After driving a semi for many years, I think I'd rather drive a school bus."
The trucker said he cuts grass to earn a few extra bucks when he's not driving.
Craig J. got his winning ticket at Lassus Bros. Oil in Fort Wayne. He stopped to redeem a free lotto ticket he received the day before.
"I'm overwhelmed and the emotion has built up in my chest," he said.
The trucker of 25 years said he did not realize he had the winning ticket for two days. "I cut grass on Sunday, worked Monday, and didn't think to look at it until Tuesday," said Craig J. "The whole time it was in my wallet."
After checking the number on his ticket several times, Craig J. called the Hoosier Lottery offices to confirm his good fortune.
"I checked it and had to stumble for my glasses," he said. "I just stared at those numbers."
He eventually claimed his prize with his family at the Hoosier Lottery Headquarters in downtown Indianapolis.