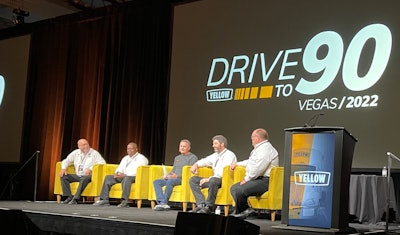 Yellow recently added several new members to its Driver Hall of Fame.
They include:
Steve Fields, Kansas City, Missouri
Herschel Evans, Atlanta, Georgia
Russ Simpson, Columbus, Ohio
According to Yellow, this honor is reserved for drivers who have dedicated themselves to the highest levels of safety and service on the road, embodying what it means to be a driver.
Brad Ball new chair of Professional Truck Driver Institute
Brad Ball, president of Roadmaster Drivers School, has agreed to serve as the new chair of the Professional Truck Driver Institute.
This change is necessary as Larry Marsh, who recently sold his Omaha, Nebraska school, stepped down. Larry's efforts to transform the organization to better serve the trucking industry were crucial, according to the association.
CVTA's Executive Committee, led by Chair Jerome Redmond, and Acting PTDI Chair John Diab approved this new role for Ball "because of his intimate understanding of both CDL education and the larger trucking industry that CDL schools serve," according to a statement from the association.
Ball has been with Roadmaster for 25 years. He is a past board member of the Commercial Vehicle Training Association, as well as past chair of the Finance, Carrier, and Legislative Committees.
Ball, his wife, Cathy, and their three sons live in St. Petersburg, Florida.
Plane crashes into tractor-trailer on I-85 in North Carolina
On Wednesday, Feb. 16 a plane taking off from the Lexington-Davidson County Airport in North Carolina hit a tractor-trailer near exit 88 on Interstate 85.
The pilot died and the truck driver, identified as 41-year-old Barrin Lamont Davis, from Concord, was taken to the hospital with minor injuries. The interstate was closed for several hours.
Highway patrol believes the pilot, who was identified as the pilot, 43-year-old Raymond John Ackley, from Charlotte, experienced mechanical failure before going down.
This was the second plane-truck accident in recent days.
A light plane struck a tractor-trailer Monday, Jan. 31 when the pilot attempted an emergency landing on Interstate 95 near Flagler Beach in eastern Florida.
Florida Highway Patrol said the aircraft lost power and the pilot tried landing on the northbound lanes of I-95. As the plane was landing, its wing collided with a tractor-trailer.
ICYMI
Maverick names driver & dedicated driver of the year
Driver Poll: Has your truck ever been broken into?
MATS will rock; truck show to be filled with music