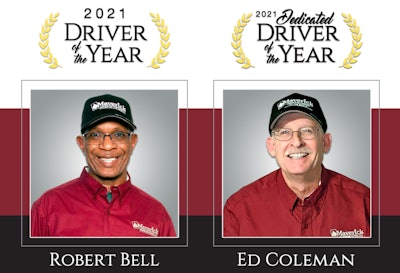 Maverick Transportation has honored two of its drivers.
Robert Bell, from Smithfield, North Carolina, is the company's 2021 Driver of the Year and Ed Coleman of Columbia, South Carolina is its Dedicated Driver of the Year.
The announcement was made Monday, Feb. 7. John Culp, president of Maverick made the announcement in an online presentation.
Bell has been with Maverick since 2004. He Fleet Manager Heath Ericson said of him, "Robert has been a staple on my board since I started working here in 2010. He's always helped me and given me advice on issues that he sees are affecting drivers. Twelve years ago, he made me realize that I was not here to only manage drivers but to help them make more money and it has stuck with me. I took his words to heart, and try to do that for every driver on my board because of his words. Robert and a few other drivers I have on my board have actually molded me into the fleet manager that I am today, and for that, I am truly grateful."
Coleman joined Maverick in 2008. Account Manager Phil Brock said, "Ed is great with our customers. He genuinely wants to make sure the customer is satisfied. He also spent a couple of months training new associates on the dock in Richburg when we had the startup of the Securement crew. He is always willing to help out another driver and has a long history of doing so. I know of at least a couple of other drivers that call Ed when they have a question. If there is something I need to get tested, such as a new type of trailer or equipment, I always go to Ed. I am lucky to have him as one of my drivers and so is Maverick."