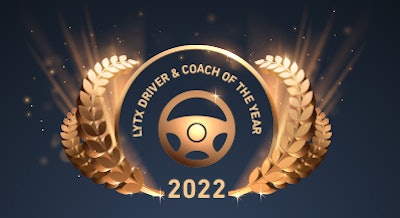 Lytx a provider of video telematics solutions, today announced the winners of its 2022 Driver of the Year and Coach of the Year awards.
Lytx selects the winners and runners-up of the Driver of the Year and Coach of the Year from six categories: Government; Services and Utilities; Transit/Motor Coach; For-Hire Trucking; Private Trucking; and Waste/Construction.
According to the company, the 2022 honorees were selected from a record number of more than 250 drivers and coaches nominated by their organizations. Each driver and coach share a commitment to safety, demonstrated by their outstanding driving behavior and a passion for sharing their safety knowledge with other drivers.
The winning drivers include:
Government: Carl McKimmie, Stark-Tuscarawas-Wayne Recycling District, Bolivar, Ohio
Services and Utilities: Collin Casson, ARS/Rescue Rooter, Orange, California
Transit/Motor Coach: Jack Cartwright, MV Transportation, Roseville, California
Private Trucking: Cory Rosenbaum, American Tire Distributors, Salt Lake City, Utah
For-Hire Trucking: Robert Deroy, Ryder System, Inc., West Palm Beach, Florida
Waste/Construction: Don Clerget, Waste Connections, Tacoma, Washington
The overall coach of the year is Kaylin Murphy, MV Transportation, Orlando, Florida
The other first-place coaches in their divisions included:
Government: Brian Garner, City of Atlanta Fire Rescue
Services and Utilities: Anthony Peregrino, ARS/Rescue Rooter
For-Hire Trucking: Michael Koch, Ryder System, Inc.
Private Trucking: Heath Smith, Coca-Cola Southwest Beverages
Waste/Construction: Joshua Koch, GFL Environmental
Since 2014, Lytx has recognized the exceptional work of professional drivers and coaches who make our roads safer using the Lytx Driver Safety Program. The program combines machine vision and artificial intelligence technology, coaching, customizable reporting, and a professional review of more than 60 types of risky driving behaviors.
"Selecting the annual winners in the driving and coaching categories is truly an honor and a privilege," said Del Lisk, Lytx's vice president of safety services. "Drivers are the lifeblood of our communities. Drivers and coaches who use our Lytx Driver Safety Program are having a positive influence by not only demonstrating their own personal commitment to safety, but also by enhancing the safety of everyone else around them. Their commitment is worthy of admiration and recognition."