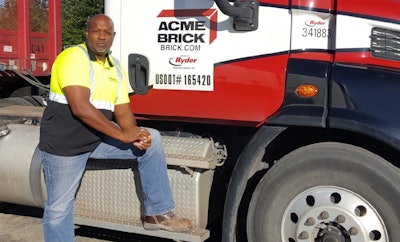 An Oklahoma truck driver was recently recognized for helping victims and the police at the scene of a fatal accident last fall.
The Truckload Carriers Association named truck driver Phillip Hurte, from Oklahoma City, Oklahoma, a Highway Angel for rescuing a couple and their two young children after their SUV rolled over in an accident.
TCA explains:
On October 25, 2021, the Ryder professional truck driver was on his route for Acme Brick in Lubbock, Texas when he witnessed an accident unfolding before him. Without hesitation, he tapped the brakes of his truck to create a Lytx recording of the event and slowed down until he could safely stop. Hurte approached the rolled-over Chevrolet Suburban SUV and found two adults and two young children trapped, upside down, in the vehicle. He quickly helped extract the family from the severely damaged vehicle and stayed with them until the emergency responders arrived at the scene.

"It's not every day that you see a serious accident like that, when I'm available to help," Hurte said. "My thinking is, I'd want someone to be a good Samaritan if that was me and my family -- to stop and see if I was okay."

The accident was caused, Hurte said, when another vehicle ran a red light and crashed into the SUV. The driver of that vehicle, traveling with a toddler, was killed in the accident.

Hurte's selfless and heroic act rescuing the family in the SUV not only safeguarded them from further harm, but his quick thinking in triggering a Lytx recording was essential to help law enforcement figure out what happened at the accident scene.

"If I can help, I'm gonna do it, because I want somebody to do that for me," he said.
TCA presented him with a certificate, patches, lapel pin, and truck decals. The company has also received a letter acknowledging him as a Highway Angel.
Since the program's inception in August 1997, nearly 1,300 professional truck drivers have been recognized as Highway Angels for the exemplary kindness, courtesy, and courage they have displayed while on the job.