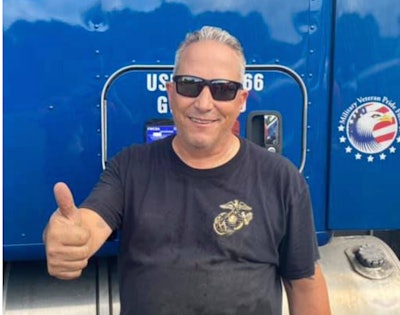 A North Carolina trucker was recently recognized for his actions at the scene of a mishap on Interstate 10 in Mississippi.
The Truckload Carriers Association named truck driver Stephen Carlin, from Clayton, North Carolina, a Highway Angel for rescuing a couple in an overturned truck. Carlin drives for Melton Truck Lines based in Tulsa, Oklahoma.
TCA explains:
On Feb. 8 at around 7 a.m., he was driving East on Interstate10 near Benton, Mississippi. As he approached the end of a construction zone, Carlin noticed the steer tire of a truck directly in front of him suddenly veered off the roadway and into some dirt. Moments later, the driver overcorrected and rolled the truck.

Being vigilant, Carlin tookaction: "I blocked all lanes of traffic, jumped out, got up to the truck, of course it was on its side," he said. "[The man] had a head injury and his wife had been sleeping in the back." Shortly thereafter, another driver stopped to help. Carlin shared that as the couple was trapped in the overturned truck, he and the other bystander smashed open the windshield to help extract them.

As a former police officer, Carlin is no stranger to accident scenes. He noticed that the man was going into shock and seemed dazed. Carlin quickly ran to his truck to retrieve foil blankets to keep both the man and woman warm until emergency personnel could assist. It took almost 30 minutes for responders to arrive.

When the accident occurred, Carlin had only been driving a truck less than a year. A former member of the U.S. Marine Corp, he had been trained in basic First Aid. As to why Carlin stopped at the accident scene, he said, "Somebody's gotta stop – it's just in my nature."
TCA presented him with a certificate, patches, lapel pin, and truck decals. The company has also received a letter acknowledging him as a Highway Angel.