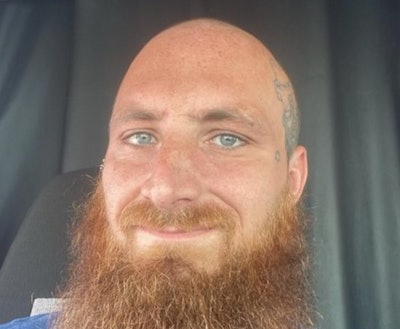 A North Carolina trucker has been honored for stopping a driver who was driving recklessly.
The Truckload Carriers Association recently named Corey Parker from Kenansville, North Carolina, a Highway Angel for stopping an overdosing driver who was driving erratically on a busy central Virginia highway.
TCA explains:
In the early evening of June 21, Parker was driving south of Ashland, Virginia, when he noticed a Lexus sedan traveling recklessly from lane-to-lane.

"They smacked the barrier again and then went out to the middle of the road and then in and smacked the barrier again," said Parker. "I thought, something's definitely going on."

Corey ParkerThe North Carolina native followed the car from Ashland onto the Chippenham Parkway in Chesterfield. Parker blasted his horn and attempted to slow down traffic to warn travelers of the erratic driver. "I didn't want to pull up right next to it since they were just smacking the barrier going in and out," he recalled. "So I just started going in and out of all the lanes and made sure no cars got on the side."

Fearing the driver would crash into a car full of innocent people, Parker used his truck to slow the vehicle to a stop against a concrete barrier. "The car slowed down to about 10, 15 (miles per hour) and smacked the barrier," said Parker. "I knew that was the time to get in front of them."

Without hesitation, Parker quickly ran to the driver's side and opened the door and saw a Narcan pen in the driver's lap. Naloxone or Narcan is used to reverse the effects of a drug overdose. The driver was unconscious. Moments later, police arrived.

Virginia State Police said they responded to the scene on Chippenham Highway near Strathmore Road around 8 p.m. "A green 2006 Lexus GS 300, driven by Antonio Hawkins, 32, of Richmond, had been seen all over the road by witnesses before running off the road to the left and striking a guard rail," according to an email from Sgt. Jessica Shehan, reported CBS News 6 in Richmond. Troopers on the scene noticed that both the driver and the passenger, a 28-year-old man from Richmond, were passed out and unresponsive. News reports said Chesterfield EMS and police on scene administered Narcan and they regained consciousness.

The driver was checked out by paramedics on the scene and refused further medical treatment. The passenger was transported to Chippenham Hospital and was discharged, VSP told media outlets. The June 21 crash is still under investigation.

"All I could think of was that car hitting kids or something," shared Parker, explaining why he went to such extraordinary lengths to stop the car.

Parker knows firsthand how drugs can impact and take over your life for the worse, serving six years in jail due to his decisions while addicted. He has since recovered and owns his own trucking business, property, and a home, and is now married.

The driver of the Lexus contacted Parker to thank him for saving his life. "I'm in the process of helping him get into rehab," shared Parker.
TCA has presented him with a certificate, patches, lapel pin, and truck decals. The company has also received a letter acknowledging him as a Highway Angel.