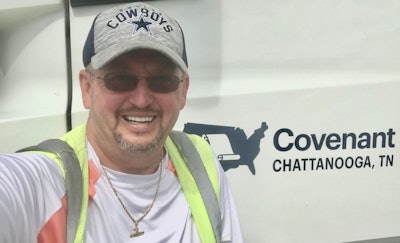 A Tennessee trucker has been honored for extinguishing a trailer fire.
The Truckload Carriers Association recently named Harrison Harville from Morristown, Tennessee, a Highway Angel for extinguishing a trailer on fire being towed by a U-Haul.
TCA explains:
On June 30 Harville was driving on Interstate 81 in Marion, Virginia around noon. He noticed a U-Haul truck with a car being hauled behind it on a trailer was sitting on the shoulder of the road, engulfed in flames.
"Everybody was just driving by," said Harville. "So I applied my brakes and pulled off the side of the road." He safely pulled over, and quickly jumped out of his truck with a fire extinguisher in hand. "The trailer was on fire. The axle locked up on the trailer – it blew out the right-side tire and the left-side tire."
Harville worked quickly to extinguish the fire, which saved the U-Haul and the vehicle towing the trailer.
"I couldn't believe all the people driving by," Harville said. "I did the right thing – if you live right, you do right."
A truck driver for the past 27 years, Harville said the driver tried to pay him $100 for his help, but he turned down the offer. "I'll be rewarded in heaven," Harville said.
TCA has presented him with a certificate, patches, lapel pin, and truck decals. The company has also received a letter acknowledging him as a Highway Angel.
Since the program's inception in August 1997, nearly 1,300 professional truck drivers have been recognized as Highway Angels for the exemplary kindness, courtesy, and courage they have displayed while on the job.