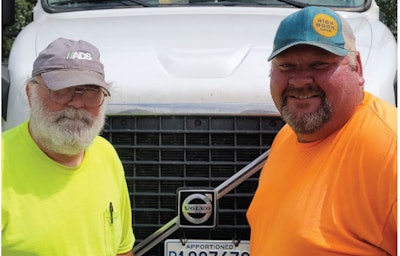 Two Iowa truckers have been honored for helping a man injured at a job site.
The Truckload Carriers Association has named truck drivers Randy Sweet and Mark Carey, both from Oelwein, Iowa, Highway Angels for helping a critically injured man who had a tractor fall on him. Sweet and Carey drive for Advanced Drainage Systems out of Hilliard, Ohio.
TCA explains:
Sweet and Carey were at a job site in Bella, Iowa and found a man who had been pinned under a tractor for four hours.

"He had the full weight of the tractor fall on him," said Carey. "He was in shock and he was chilled."

The man's wife had just run off to find help, but Sweet and Carey called 911 and stayed with the man until emergency personnel arrived. Carey has medical training and relayed the injured man's vitals to the emergency personnel. Though the injured man wanted to be moved, Carey urged him to stay still, since he may have a broken hip and could cause more extensive physical damage.

"His leg was pretty bad," said Sweet. "It was all torn up and he was in a lot of pain — we were trying to keep him comfortable."

The man was conscious and had a lot of open wounds, Sweet said. While Sweet calmed the injured man, Carey ran to the entrance to flag down the ambulance once it arrived. Sweet did what they could during that time to keep him calm and comfortable. As it turned out, the man suffered a broken hip and spent a week in the hospital recuperating.

"You can't walk away from something like that," Sweet said.
Since the program's inception in August 1997, nearly 1,300 professional truck drivers have been recognized as Highway Angels for exemplary kindness, courtesy, and courage displayed while on the job. Thanks to the program's presenting sponsor, EpicVue, and supporting sponsor, DriverFacts, TCA is able to showcase outstanding drivers like Sweet and Carey.