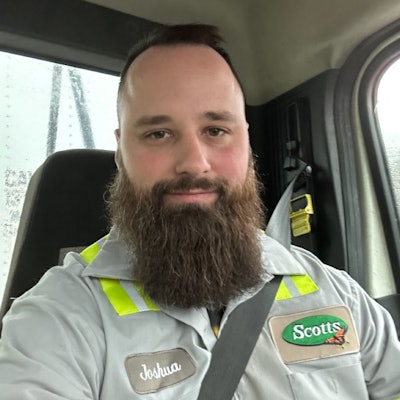 An Ohio driver has been recognized for helping a fellow trucker in distress.
The Truckload Carriers Association recently named truck driver Joshua Harris, from Cardington, Ohio, a Highway Angel for rushing to the aid of a fellow trucker having a stroke while driving. Harris drives for Scotts Miracle-Gro out of Marysville, Ohio
TCA explains:
Around 4 p.m. on Dec. 15, 2022, Harris was on his way to the Columbus Zoo with his family when he received an urgent phone call from his work colleague, Dusty. He was told Dusty was having some sort of medical emergency while he was driving his truck and requested Harris come to his aid immediately.

"He was on the road with his tractor-trailer," Harris said. "I didn't know what to expect when I got there."

Harris drove about 30 minutes to Mount Vernon, Ohio, to meet Dusty, who he found standing on the side of the road vomiting in the rainy, cold weather.

"He couldn't get back in the truck," Harris said. "At the time I didn't know it was a stroke."

Harris said an Ohio State Trooper had been called and arrived just before he did. They waited for the ambulance to arrive, and Harris safely parked Dusty's truck and held on to the keys. He then followed the ambulance to the hospital and waited in the ER for an update. Doctors determined the trucker had suffered a stroke, but he was released from the hospital the next day.

"I wanted to know what was going on — I care about the guy," Harris said. "Thankfully it turned out well."
Since the program's inception in August 1997, nearly 1,300 professional truck drivers have been recognized as Highway Angels for exemplary kindness, courtesy, and courage displayed while on the job. Thanks to the program's presenting sponsor, EpicVue, and supporting sponsor, DriverFacts, TCA is able to showcase outstanding drivers like Chandler.