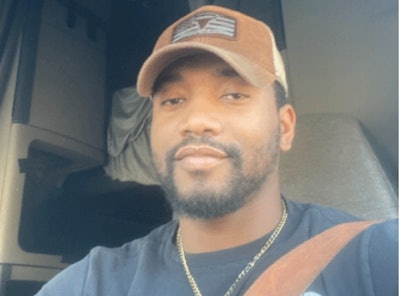 A North Carolina trucker's actions at the scene of a truck fire in February earned him recognition from a national trade association.
The Truckload Carriers Association (TCA) recently named truck driver Lance Kent, from Greensboro, North Carolina, a Highway Angel for stopping to help another trucker whose truck was engulfed in flames. Kent drives for Murrows Transfer Inc. out of Thomasville, North Carolina.
TCA explains:
On Feb. 24, around 7 p.m., Kent was driving on Highway 77 through Rocky Gap, Virginia.

Lance Kent"I could see smoke from a distance," Kent said, as he drove closer to what ended up being a truck on fire.

He stopped his truck to see if he could help; he was the only one who stopped. The flames were so intense, it destroyed the truck and the driver lost everything. Fortunately, the driver was uninjured and able to exit the vehicle.

"My biggest fear was that someone was trapped in there," Kent said. "He blew a rear tire — it sparked— and caught fire."

He was able to give the driver a blanket from his own truck since he had nothing.

"That could've been me," Kent said. "I just want to be helpful." He stayed with the driver until emergency personnel arrived.
Since the program's inception in August 1997, nearly 1,300 professional truck drivers have been recognized as Highway Angels for the exemplary kindness, courtesy, and courage displayed while on the job. Thanks to the program's presenting sponsor, EpicVue, and supporting sponsor, DriverFacts, TCA is able to showcase outstanding drivers like Kent.