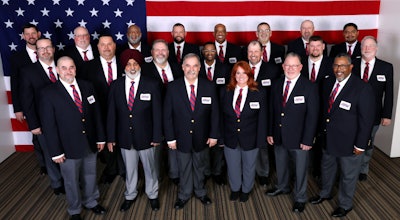 ATA
The American Trucking Associations is seeking nominations for professional drivers to serve on the 2024-2025 America's Road Team.
Every two years, the ATA searches for professional drivers with superior skills and sterling safety records who are willing to take time away from the cab to demonstrate the trucking industry's commitment to safety.
Sponsored exclusively by Volvo Trucks North America for over 20 years, the Road Team captains promote the trucking industry by engaging with the public, media, and elected officials, highlighting the industry's safety record and career opportunities.
"Since the first America's Road Team was named in 1986, these men and women have exemplified the very best our industry has to offer," said ATA President and CEO Chris Spear. "These proud and patriotic Americans embody what makes our industry the greatest in the country: commitment to service, safety, and professionalism. They are the best spokespeople trucking has and we eagerly await welcoming the next group of drivers into this elite fraternity."
ATA members are encouraged to nominate professional truck drivers who exhibit strong interpersonal skills, have impressive safety records, and demonstrate a positive attitude toward the industry and their careers. Nominations for the 2024-2025 class of America's Road Team are due Sept. 5.
To nominate a professional truck driver for America's Road Team, visit the official page for America's Road team. Finalists will be announced Oct. 27, with the final selection taking place in January 2024 in Washington.
Magnus Koeck, vice president of strategy, marketing, and brand management for Volvo Trucks North America said, "At the core of everything we do at Volvo Trucks is safety. The men and women who are the Captains of America's Road Team share that core belief with us as demonstrated by millions of safe mile accomplishments, superior driving skills, and dedication to making the trucking industry better every day. We are proud to align with them and continue demonstrating the value of safety that we at Volvo Trucks believe in."