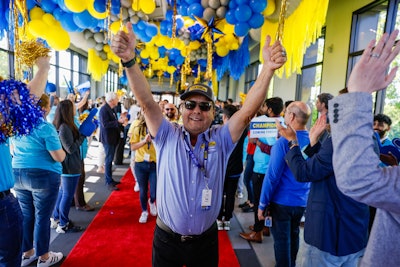 J.B. Hunt Transport Services, Inc. recently celebrated 84 company drivers for achieving two-plus million safe driving miles in 2022 at its annual Million Mile event at the company's headquarters in Lowell, Arkansas
The company awarded the elite group of drivers a total of more than $1.2 million in safe driving bonuses.
"These drivers are the pride of our fleet," said Nick Hobbs, chief operating officer and president of contract services at J.B. Hunt. "The amount of hard work, commitment, and attention to detail that goes into achieving a million safe miles is such an impressive accomplishment, and these drivers have surpassed that at least twice. Our drivers never cease to amaze me."
This year's class includes four drivers who achieved four million safe miles and one driver – only the second in company history – who surpassed five million. Since the inception of the Million Mile program in 1996, more than 4,600 drivers have been recognized for achieving at least one million safe miles. Each driver's name is etched into the Million Mile Wall at corporate headquarters. On average, it takes a driver between seven and 10 years to reach one million safe miles.
In total, J.B. Hunt has awarded more than $37 million in safety bonuses through the Million Mile program. Bonus amounts start at $5,000 for achieving one million miles and double for each million after that, up to $50,000.
Drivers and their families were in Lowell for the celebration, an event the company has hosted since 2001.
"This is such a great time to reflect on our safety culture by putting our heroes – the drivers who represent the best of the best – in the spotlight," said Shelley Simpson, president of J.B. Hunt. "Day in and day out, these drivers are dedicated to delivering for our customers with the highest level of precision and caution. They are some of the most trusted people in the company and the reason why our fleet is one of the safest on the road."