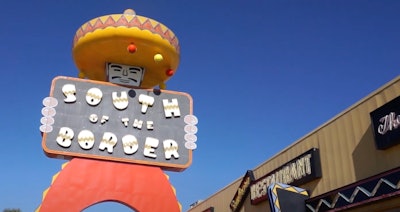 South of the Border
Have a favorite place to stop for something to eat when you have the time and want to enjoy a delicious meal?
If not, Flock Freight, an online service that says it "... pools freight in the most efficient way possible — bringing shippers more cost-effective options while helping carriers keep their trucks (and wallets) full," has some ideas for you. It recently compiled a list of what it calls the Top Roadside Eats in America.
The list includes:
Iowa 80 Kitchen at Iowa 80 Truckstop, Walcott, Iowa
White's Delia at White's Travel Center, Raphine, Virginia
South of the Border (Porky's Truck Stop), Hamer, South Carolina
Dysart's Restaurant and Truck Stop, Hermon, Maine
Country Grill Restaurant at 45 Truckstop, Corinth, Mississippi
Copan Restaurant at Copan Truck Stop, Copan, Oklahoma
Prett Dhaba at Pendleton Truck Stop, Foss, Oklahoma
Omar's Hi-Way Chef at Triple T Truck Stop, Tucson, Arizona
Willow Ranch Restaurant, Buttonwillow, California
River City Grill, Missoula, Montana
Julia Belle's, Florence, South Carolina
Lucille's Roadhouse, Weatherford, Oklahoma
(See each restaurant's completed review here.)
Flock Freight says it compiled the list based on:
Truck parking
The convenience of its location
Quality food and service
Operating hours
Locality or historical significance
Amenities like laundry facilities and showers
RELATED NEWS: Website offers a list of the 'The best truck stop eats in every state"