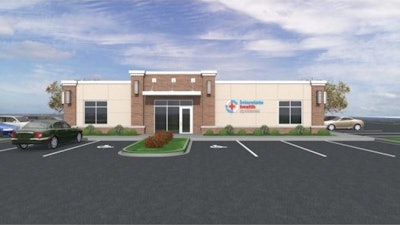 Interstate Health
Interstate Health, which is aimed at providing healthcare access to professional drivers, announced recently the locations of its first two clinics in Port Wentworth, Georgia, and Cookeville, Tennessee.
The Port Wentworth location broke ground March 31 and is anticipated to open later this year. The Cookeville clinic is the current Occupational Health Center, LLC, and joined Interstate Health effective April 1. The company said both locations are strategically situated in areas frequented by commercial drivers, aligning with the company's mission to make healthcare more accessible to the transportation industry, local communities, and interstate travelers.
"The groundbreaking of our first greenfield clinic coupled with the addition of Occupational Health Center represents a meaningful milestone in our efforts to improve the health and lives of 3.5 million commercial truck drivers nationwide," said Jeff Seraphine, chief executive officer of Interstate Health. "We anticipate that these two locations alone will serve thousands of drivers annually and are eager to watch that impact grow as we work to build a nationwide network of clinics over the next few years."
Each location will initially offer primary and urgent care services for commercial drivers and the community, as well as DOT physicals, drug screens and other pre-employment medical care, and x-ray services.
Future services Interstate Health said it aims to offer include laboratory, pharmacy, and sleep studies.. The company also has a master technology plan to integrate with trucking company platforms and effectively utilize data to enhance continuity of care and patient convenience.
The 2,100-square-foot Port Wentworth, Georgia facility is at the Port Fuel Center located on the corner of Grange Road and Georgia Highway 21 near Interstate 95.
The Occupational Health Center in Cookeville, Tennessee is a 5,300-square-foot clinic that offers primary care, urgent care, and occupational medicine. As part of Interstate Health, OHC providers and staff will continue to serve their current patients and community, while also serving commercial truck drivers who frequent Interstate 40.
Interstate Health formally launched in November 2022.