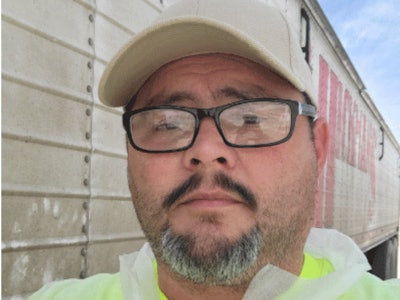 An Arizona trucker has been honored for his efforts to save the life of a man whose truck had hit his.
The Truckload Carriers Association recently named truck driver Anthony Robles, from Buckeye, Arizona, a Highway Angel for rescuing a man whose pickup truck crashed in front of him. Robles works for Hickman's Family Farms out of Buckeye, AZ.
TCA explains:
Anthony RoblesOn March 21, at 9:45 a.m., Robles was driving northbound on State Route 85 when he was struck by another vehicle. That vehicle went off the road into the center, traveled 100 yards, and crossed back over the highway and into the desert, where it stopped.

Robles stopped, ran from his truck, about 25 yards into the desert, to check on the other driver. He tried to open the driver's door but it was locked and stuck behind a bush. Robles went to the passenger side of the vehicle and could not open the door.

"He was out (unconscious)," Robles said. "Me and two other guys busted out his window and helped get him out of the truck."

When he pulled the driver out of the vehicle, he realized the driver was not breathing and had no pulse.

"I saw him not breathing and knew what had to be done," he said. "I was a little worked up but kept my head on straight."

Robles opened his airway and started CPR/chest compressions on the driver. He continued this until EMS arrived and they took over care of the injured man. Robles, who has been driving a truck for almost six years, said the last update he had about the injured driver was that the man had experienced a medical emergency while driving and is now in stable condition.
Since the program's inception in August 1997, nearly 1,300 professional truck drivers have been recognized as Highway Angels for exemplary kindness, courtesy, and courage displayed while on the job. Thanks to the program's presenting sponsor, EpicVue, and supporting sponsor, DriverFacts, TCA is able to showcase outstanding drivers like Robles.