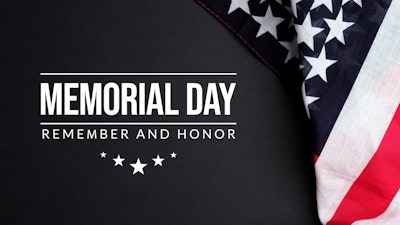 One of trucking's most popular radio programs plans a special series of Memorial Day presentations.
On May 26-29, Radio Nemo of North America will feature an entire weekend of programming dedicated to the holiday. The Dave Nemo Show and Dave Nemo Weekends on SiriusXM 146 Road Dog Trucking have assembled a lineup of guests to honor the men and women who made the ultimate sacrifice for our country.
"The true meaning of Memorial Day can get lost in the three-day weekend," said Nemo. "So, we are honoring those fallen heroes throughout the four days. I agree with the late Senator Daniel Inouye that this should be the one national day that stands on its own as a solemn reflection on the cost of saving American democracy."
These shows will be produced in conjunction with FASTPORT, whose Transition Trucking: Driving for Excellence award nomination process concludes at the end of June. It is a diverse lineup that includes veterans, executives, authors, and members of the transportation industry. Those guests will discuss the meaning of the holiday, the events that surround it, and the opportunities it presents.
The special holiday programming begins Friday, May 26 at 9 a.m. on The Dave Nemo Show as author Craig Nelson discusses his new history V is for Victory: Franklin Roosevelt's American Revolution and the Triumph of World War II. The author will discuss with host Jimmy Mac the story of FDR's "great debate" with aviator Charles Lindbergh over America's isolation on the eve of Pearl Harbor.
Saturday's Dave Nemo Weekends will have co-hosts Jimmy Mac and Lindsay Lawler welcoming a collection of guests who have made careers dedicated to honoring the dead by serving the living.
Saturday, May 27 starts at 7 a.m. with the arrival of Wreaths Across America's Executive Director Karen Worcester talking with Mac and Lawler about her organization's commitment to not only its annual event at Arlington National Cemetery but its continued commitment to Gold Star Families. Retired Colonel Adam Rocke stops by at 8 a.m. to tell listeners about not only his career of creating civilian networks for service members but also his own personal memories of his tour of duty. At 9 a.m., the show welcomes veteran Sarah Lee whose own personal struggles resulted in the creation of Waypoint Vets, an organization dedicated to facilitating adventure to help veterans in their personal recoveries.
Sunday, May 28 is a mix of the holiday's meaning in the past, present, and future. Author Justin Martin will be on air at 7 a.m. to examine his works A Fierce Glory: Antietam--The Desperate Battle that Saved Lincoln and Doomed Slavery and Rebel Souls: Walt Whitman and America's First Bohemians. At 8 am., CEO of Sierra Delta BJ Ganem will talk about his non-profit along with his participation as captain of the Wounded Warrior Football Team. Sunday will conclude with FASTPORT President Brad Bentley explaining his organization's mission to veterans and the details around the Transition Trucking: Driving for Excellence award.
On Monday, May 29, Memorial Day, Mac joins Nemo on The Dave Nemo Show as they welcome veterans and those dedicated to their assistance. At 7 a.m. Commander Daniel O'Hara discusses his career as a pilot with Top Gun instruction and over 5,100 flight hours with 700 carrier arrested landings. He will be followed at 8 a.m. by a special edition of The Recruiters Round Table as KL Breeden and Sons discuss the company's special programs for veterans. Memorial Day's concluding hour features veteran Beau Higgins sharing a story of courage, sacrifice, and loss followed by restaurateur Bruce McDonald sharing his passion project: the Remembered Light exhibit.